Sam Knopp Ceramics
We are excited to present Sam Knopp Ceramics as our Debut Artist for December 14-16. Sam creates stunning and unique pottery pieces, with the most beautiful combination of colours. When we saw her work, it was love at first sight, and we can't wait for her Debut at MC so that you can fall in love too.
How did you get started in the wonderful world of ceramics?
It is a wonderful world! I discovered ceramics during my undergrad at Emily Carr University of Art and Design in Vancouver, BC. I'm so thankful though that my education in clay was two-fold. While I was attending this great art school I was also able to work alongside two professional studio potters, Darlene Nairne and Don Hutchinson, and that experience was every bit as valuable as my BFA.
Where did you go to school, and what was your focus on?
I went to a few different schools, but I eventually found the right fit at Emily Carr. It was only once I arrived there that ceramics became my focus. For as long as I can remember I have always been a maker, enjoying any art supplies I could get my hands on. I think clay offered me the most possibilities while still providing some parameters. I really loved the technical aspects of ceramics as well as the fluidity it presented between the realms of art, craft and design.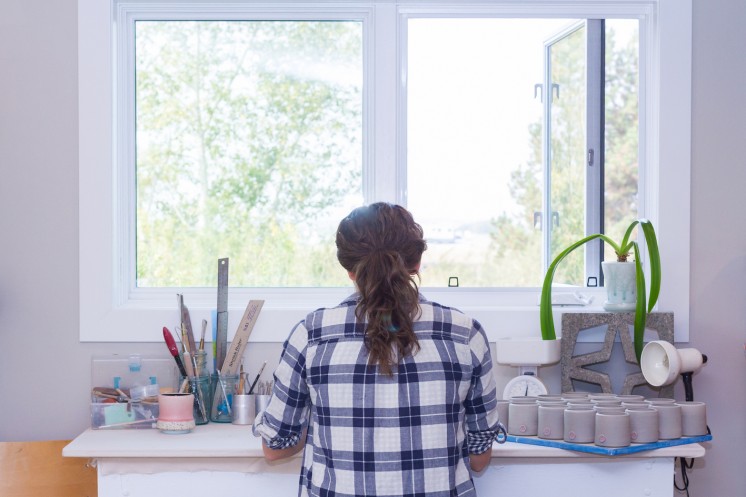 After finishing school in British Columbia and moving back to the Prairies, did you notice your work change at all as you changed landscapes?
I'm not totally sure yet. I've only been back for about two years, but it's true that I've developed a few quieter lines of work with calmer palettes since returning home. I love those bright pops and having work that some may find a little weird or loud, but maybe now that I have a home and not just a home-base there's something important about calm and comforting objects too.
What drew you to combine mid-century design, pop-culture and craftsmanship to create your pieces?
I've always liked learning and experimenting whether that's with new materials or new ideas, and sometimes it's the unexpected combinations that I like the most. I find a lot of inspiration from industrial design and architecture but am drawn to the warmth and humanness of the handmade. I like the elegant ideal of a minimalist approach, but I'm also a bit of a goof and feel the need to not take myself too seriously. It's when my pots can both sort of fit in while also sort of being outliers that I feel I've made a successful object.
Where can people find out more about Sam Knopp Ceramics?
My instagram is most fresh @samknoppceramics but you can also get in touch and learn more via my website at www.samknopp.com
Catch Sam Knopp Ceramics at the MC on December 14-16. BMO Hall C.